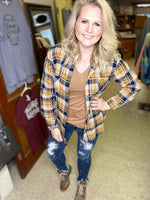 At William and Wesley we create customized apparel that speaks about who you are! We enjoy bringing your visions to life!

Our website and store hope to promote a collection of cute and comfortable clothing for all woman, so that they can feel their most stylish. We believe shopping for new trendy clothing should be exciting, fun, and most of all, simple! Not Chaos! What mama wants that?

That reminds us! Don't forget about your little ones. We have plenty of clothing, books and stuffed animals for them!

Please enjoy our website! Reach out if you have any inquiries, and if you're ever in Laurens, Iowa, stop by our store.